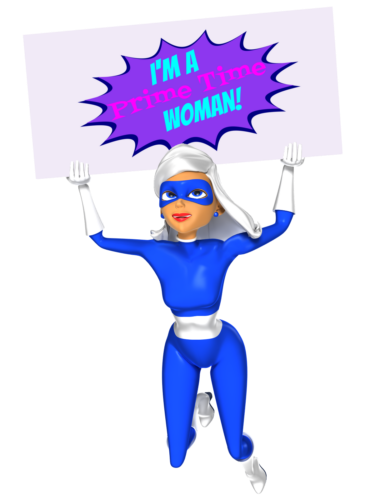 Yes, you are fabulous.  (And, marvelous!) Why?  Because you are entering your Prime Time as a woman!
Just think about this for a moment.  If you're over 50, you're in the second half of your life.  Some call it the "second act".  The question is, have you really thought about what you want to do with the rest of your life? Being in our 50's, 60's and even 70's, we're at a next threshold leading to brand new opportunities and adventures. But, we need to take some time to ponder our future to take advantage of the wonderfulness that lays ahead. Before it's too late.
Now that we're in our Prime Time, we don't have to worry about taking care of our kids or our spouses.  More than likely, the kids are grown and out of the house and our spouses are near retirement or retired.  Our responsibilities for nurturing and maintaining our families have all but disappeared.  We FINALLY have time for OURSELVES!
We finally can go for OUR most bodacious dreams that have been put on the back burner for many years.
To truly create a life we love, we need to first answer some tough questions –
Financially, where are you and will you have enough money to last you?
Do you have too much on your plate now to really work on your dreams?
Are you self-sabotaging your efforts to create the life you want to live and love?
Are you afraid to spread your wings?
Do you feel you're too old to be of value and to contribute your talents so you can help make the world a better place?
It's my goal to help you answer these tough questions via the articles, tips and strategies, resources and inspirational memes within the website. (So be sure to come back often to see what's new.  Better yet, get on the special notification list here!)
One way to provide you with suggestions for answering the above questions, I designed the home page to feature 3 major problems most women entrepreneurs face every day.  They're there for easy access to the articles that offer solutions and strategies to overcome the problem so that you can get to the good stuff that'll help you bring your desires into reality.
Read "My Mission" page to give you a foundation as to why I created this website.  I want this website to become a great resource for you as you claim your Prime Time greatness and start living an awesome life.  The blog will be on topics to help you with your business as well as with personal development ideas to stop self-doubt and to declare your worthiness.
Now that you have an idea of my "raison d'etre", let me tell you a little more about me and why I can chat with you about all of this.
Essentially, I'm on a Quest to start a new movement devoted to business women over 50 who'd like to have a fun, awesome, and prosperous second act!
My vision for this quest started with writing my mother's eulogy 3 years ago. Here is part of what I had written … (click here to continue)